Actionable Insights with
Actionable
Harri IQ
Harmonise talent, revenue and compliance data to achieve
operational excellence and unparalleled visibility
to what's happening in the now.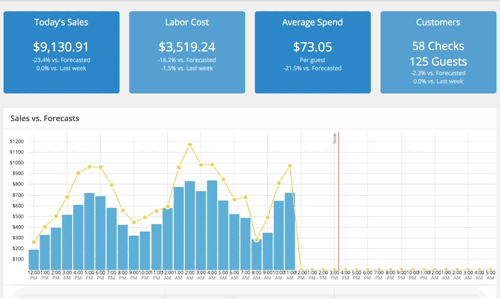 Let the AI be your data explorer
Don't just collect deep data, understand and act on it. Searchable, AI-powered analytics provide curated insights without requiring an analyst.
Harness the power of AI within a powerful, but easy-to-use self-service analytics platform.
Simply search for what you need and SpotIQ instantly analyses billions of rows of data in seconds using dozens of insight-detection algorithms.
Understand, forecast, and share trends across your entire organisation, or drill down at the location level. Optimize labour, inventory, sales, operations, and everything in-between.
Shape your data stories like never before
A highly interactive workspace with unlimited data customisation options. Hospitality analytics your entire team can understand no matter their background or data experience.
Create ever-evolving data liveboards with intuitive drag-and-drop analytics customisation.
Generate persona-based insights for everyone, from your COO to your Store Managers, without the need for pre-defined data drill-down paths.

Deliver compelling data stories in familiar, visual formats that are easy to understand.

Uncover insights hidden in the darkest corners of your data
Never miss a beat no matter how many departments, locations, processes, and data points you're responsible for monitoring.
Schedule-based and threshold-based data alerts ensure you're the first to know what's changing, or what's about to change.
Get key metrics delivered straight to your inbox by subscribing to multiple data liveboards set up in Harri IQ.